Collection Exhibition 4th term 2022
PERMANENT
Gallery 1:Using Materials in Various Ways to Create Artworks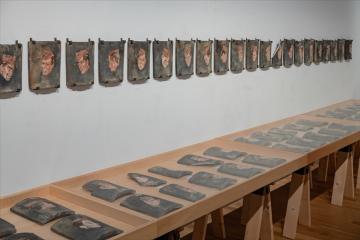 Ebosi Yuasa《GHQ PORTRAITS》 2017
 Modern art uses all sorts of materials. This includes not only different types of paints, such as oils, watercolors, and acrylics but also other materials that wouldn't normally be considered artistic. This exhibition presents 19 pieces that place a focus on the unique materials used to create them, centered on new additions to our collection during 2022.
"GHQ PORTRAITS" from Ebosi Yuasa, who continues to work under the guise of a fictional mediocre painter born in the Taisho era (1912 - 1926), takes the similarly fictional setting of having used rubble after the war to depict the faces of American soldiers, meaning the piece also uses old tiles. Tsubasa Kato's visual piece "Underground Orchestra," themed around the various issues facing oil pipeline construction in the USA, features ringing bells placed over prairie dog holes. "No Name" is a piece from two artists; Sawako Tanizawa's countless ceramic dolls, fired from a combination of clay and shells, form a collaborative pair with a novel written by the author Kaori Fujino. Other pieces include works by Erina Matsui, as she continues to paint self-portraits of funny faces, and Tomoko Konoike, who paints animals onto connected pieces of leather.
 Please enjoy the Takamatsu Art Museum's collection while feeling the differences between the materials used, each carefully selected to suit a desired expressive purpose.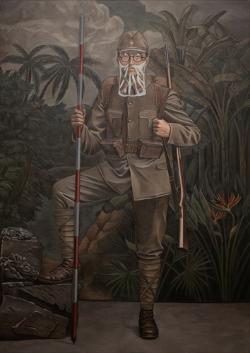 Ebosi Yuasa《Self‐portrait in Military Attire》 2022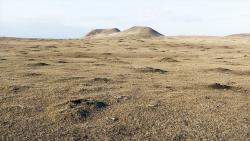 Tsubasa Kato《Underground Orchestra》2017
© Tsubasa Kato
Courtesy of the artist and MUJIN-TO Production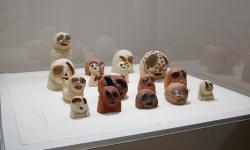 Sawako Tanizawa/Kaori Fujino《no name》 2015
Erina Matsui《everyday referee days》2020
©Erina Matsui
Courtesy of ANOMALY
Gallery 2:The Beauty of Sanuki Lacquerware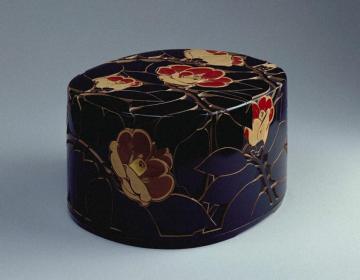 Kodo Otomaru《Cosmetic Box with Camellia Design》 1943 Phot by Akira Takahashi
 The Modern Japanese Lacquer exhibit, based on the theme of "Breaking out of Tradition" and featuring pieces from museums in the USA, Holland, Switzerland, and Germany, as well as from private collections, also featured six pieces from the Takamatsu Art Museum's own collection. After the Meiji Restoration, lacquer craftsmen continued to seek a modern identity and new modes of expression, discovering original new techniques, motifs, and materials along the way. The Sanuki lacquer artists who lived during this period, including Joshin Isoi and Kodo Otomaru, also proactively introduced new pigments, techniques, and designs. The varied forms of expression and delicate techniques they created have been carried down to modern times.
This exhibit features not only pieces that were submitted to the Modern Japanese Lacquer exhibition— Keido Ishii's "Two-Tier Table for Incense Burner with Peony, Chrysanthemum and Insect Design," Kodo Otomaru's "Simplified Writing-Paper Box with Design of Insects" and "Accessory Box with Camellia Design," and Joshin Isoi's "Incense Container with Persimmon Design"—but also pieces from the same artists that tackle different techniques and designs, and pieces from Zokoku Tamakaji, the father of Sanuki Lacquer.
 Please enjoy the exquisite carving, rich colors, and unique expressions of Sanuki lacquerware from 10 artists across 31 pieces.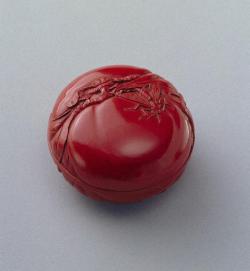 Jyoshin Isoi《Incense case persimmon design,tsuishu》
Phot by Akira Takahashi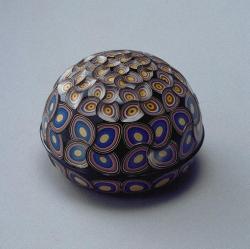 Kodo Otomaru《Incense case with hydrangea design,choshitsu》 1950
Phot by Akira Takahashi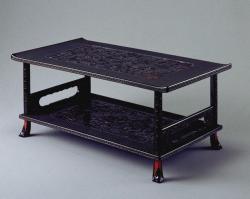 Keido Ishii《Two tier table for incense burner,in sanuki relief,tsuikoku》 1931
Phot by Akira Takahashi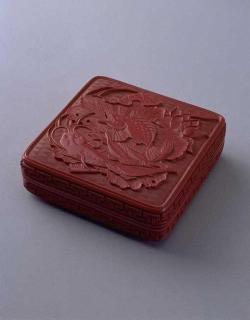 Kanzan Takahashi《Pad holder with lotus,grass carp and vegetables design,tsuishu》
Phot by Akira Takahashi

pamphlet(PDF:205KB)

Period:
[Gallery 1]
Junuary 5(Thu.),2023-March 8(Wed.),2023
[Gallery 2]
Junuary 5(Thu.),2023-March 26(Sun.),2023
  
Venue:
Permanent Collection Gallery
  
Closed:
Monday(the following weekday if Monday is a holiday), March 9(Thu.), March 10(Fri.)
  
Hours:
Monday-Saturday & Holidays: 9:30-17:00 (Entry until 16:30)
*Until 19:00 during special exhibitions on Friday and Saturday.
*Last entry is 30 minutes prior to closing.
  
Organized by:
TAKAMATSU ART MUSEUM
  
Admission:
【General 】200yen(160yen)
【University students】150yen (120yen)
【High school age or younger/Seniors 65+】Admission free
※Advance Purchase and Groups of 20 or More Get Discounts (pricing in parenthesis)
※Free admission for those with a physical disability certificate, rehabilitation certificate, or mental disability certificate.
  
Telephone Inquiry
TAKAMATSU ART MUSEUM
TEL +81-87-823-1711
  
PDF形式のファイルを開くには、Adobe Acrobat Reader DC(旧Adobe Reader)が必要です。
お持ちでない方は、Adobe社から無償でダウンロードできます。


Adobe Acrobat Reader DCのダウンロードへ