General Information
address:10-4 Konyamachi, Takamatsu, Kagawa, Japan 760-0027
TEL +81-87-823-1711
FAX +81-87-851-7250
Mail bijyutsu@city.takamatsu.lg.jp
  
  
9:30 - 17:00
*Until 19:00 during special exhibitions from Tuesday through Saturday and national holidays
*Last entry is 30 minutes prior to closing.
  
  
Mondays(the following weekday if Monday is a holiday)
The year-end and New Year holidays (December 29 - January 3)
*Takamatsu Art Museum is open daily during the Setouchi Triennale 2016.
  
  
Tickets are sold at entrance of exhibition galleries.
Admission to the building, Children's Art Space, and library is free.
  
Admission to the Exhibitions Organized by the Takamatsu Art Museum
  
Permanent Collection Exhibition
General admission 200 yen (group rate 160 yen)
University students 150 yen (group rate 120 yen)
High school students and younger: free
65 years of age and over: exemption of admission with the presentation of a valid ID, such as passport
  
Special Exhibition
High school students and younger: free
For other visitors, admission fees are set at each exhibition. Please see the exhibition webpage for details.
    
*The ticket also allows admission to the permanent collection exhibition.(Valid within a fiscal year)
*Advance tickets are available. Please see the exhibition webpage for details.
*All prices include the consumption tax.
*Discounted rates for groups of 20 or more are available.
*The Museum Day is the first Saturday of August and admission is free.
  
Exemption of Admission Fees
  
Admission will not be charged for those presenting the following: Physical Disability Certificate, Rehabilitation Certificate, or Mental Disability Certificate.
  
  
Discounted admission is available to affiliated facilities such as Tamamo Park, Ritsurin Garden, and the Kagawa Museum
  
A group discount rate for admission will be given at the affiliated facilities by presenting a ticket stub of the day ticket (excluding group discount ticket) or advance ticket for the exhibitions organized by the Takamatsu Art Museum.
(Valid within 2 days of your visit to our museum)
  
  
Annual Passport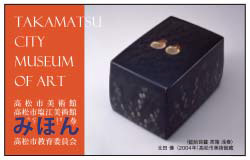 An annual passport entitles the holder (non-transferable) to unlimited admission to the exhibitions (special exhibitions and permanent collection exhibitions) organized by the Takamatsu Art Museum and the Shionoe Museum of Art for one year from the date of purchase.
  
3000 yen
65 and over: 1,500 yen with the presentation of a valid ID, such as passport
  
  
  
For the protection of exhibited works and architectural conservation as well as comfort of our guests, we ask for your cooperation in the following:
Please eat, drink, or make a voice call only in the designated areas of the Museum.
Please don't touch the works of art.
Please keep conversation low and be considerate to others.
Pets are not allowed in the Museum except assistance dogs.
Photography is allowed only in designated areas.
Please refrain from smoking in the Museum.