Takamatsu Contemporary Art Annual vol.11 Fragile Calm Landscape
Takamatsu Contemporary Art Annual vol.11 Fragile Calm Landscape.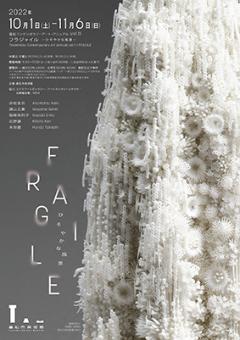 The "Takamatsu Contemporary Art: Annual" exhibition introduces unique and skilled artists. Under this year's theme of "Fragile/Calm Landscape," we will explore the appeal of "fragile" artistic expressions as seen in the work of five cutting-edge artists.
Nelo Akamatsu (born in Tokyo) uses techniques such as installations to pick up on the rhythms that secretly pulse in both nature and everyday life. Genki Isayama (born 1987, Oita) uses video and installations to express the transformation of matter as caused by uncontrollable events, working with the keywords "collapse and reproduction." Eriko Inazaki (born 1972, Hyogo) continues to expand the possibilities of ceramic art through her own unique technique of combining and then firing countless small pieces of clay. Ken Kitano (born 1968, Tokyo) uses photography to express a vision of humans and the universe that transcends human visual capacity. Takeshi Honda, (born 1958, Yamaguchi), creates detailed charcoal pencil and oil paintings of landscapes in the mountains and his garden from his base in Tono, Iwate Prefecture.
This is your chance to enjoy a selection of diverse expressions from these artists.
Period:
October 1(Sat.),2022-November 6 (Sun.),2022
Venue:
TAKAMATSU ART MUSEUM
Closed:
Monday
It will be open on the public holiday Monday.
Hours:
Tuesday - Saturday & Holidays: 9:30 - 19:00 (Entry until 18:30)
Sunday: 9:30 - 17:00 (Entry until 16:30)
  
Organized by:
TAKAMATSU ART MUSEUM
Admission:
【General / Seniors 65+】800yen(640yen)
【College students】500yen (400yen)
【High school age or younger】Admission free
※Advance Purchase and Groups of 20 or More Get Discounts (pricing in parenthesis)
※Free admission for those with a physical disability certificate, rehabilitation certificate, or mental disability certificate.
Telephone Inquiry:
Takamatsu Art Museum
TEL +81-87-823-1711