Mitsumasa Anno: Visions and Landscapes ―The Appeal of Picture-book Originals
Mitsumasa Anno: Visions and Landscapes ―The Appeal of Picture-book Originals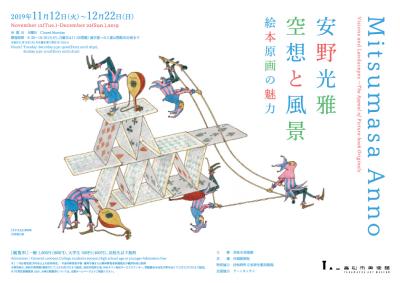 Mitsumasa Anno《さかさま》1969 ©空想工房
We are now holding "Mitsumasa Anno: Visions and Landscapes―The Appeal of Picture-book Originals," introducing the works of Mitsumasa Anno, an internationally renowned painter and picture book illustrator.
Born in Tsuwano, Shimane Prefecture in 1926, Anno worked as a teacher after the war before moving into the fields of painting, book binding and design. In 1968 he made his debut as a picture book illustrator with "Mysterious Pictures" (Fushigi na E). His wordless picture books were rare at that time and attracted attention both in Japan and abroad. His mysterious worlds that employ optical illusions piqued the curiosity of readers and captured the hearts of children. Next, Anno then created numerous, beautiful and elaborately detailed picture books which were both mysterious and entertaining such as "Upside-Downers: More Pictures to Stretch the Imagination (Sakasama)," "Anno's Animals (Mori no Ehon)" and "The King's Flower (Okina Monono Sukina Osama)." Those works grew to be widely beloved by children and adults alike, and Anno received various awards such as the Hans Christian Andersen Medal and the Kikuchi Kan Prize, etc.
This exhibition features approximately 130 works with the themes of "fantasy" and "landscapes." The original, charming picture book illustrations are on display such as those from Anno's debut picture book, "Mysterious Pictures (Fushigi na E)," one of his most famous works, "Anno's Journey" (Tabi no Ehon), and "Wildflowers and Fairies (No no Hana to Kobitotachi)" which features vibrant depictions of flowers, etc. The exhibition also introduces numerous landscapes that Anno painted during his travels as an artist across Europe and various regions of Japan. Furthermore, there is even a special exhibition of works with scenes from landscapes in Ogoshi-mura, Kagawa Prefecture (now Sakaide City) that Anno painted when he was sent there in 1945 at age 19 as a soldier in the Japanese army. Anno has possessed an extremely active imagination ever since he was a child. Please fully enjoy these pictures from his world that unlock hearts entertainingly, comfortably and kindly.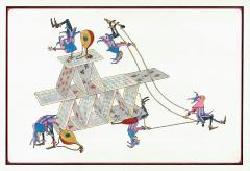 安野光雅《さかさま》1969年
(c)空想工房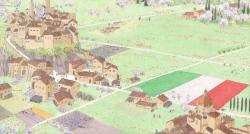 安野光雅《旅の絵本Ⅱ》2006年
(c)空想工房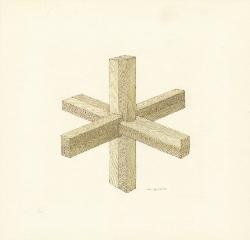 安野光雅《組木細工 (空想工房の絵本)》2014年
(c)空想工房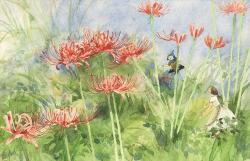 安野光雅《野の花と小人たち ひがんばな》1976年
(c)空想工房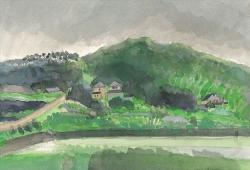 安野光雅《王越村(香川県坂出市王越町)》2015年
(c)空想工房
Period:
November 12(Tue.)-December 22(Mon.),2019
Venue:
TAKAMATSU ART MUSEUM
Closed:
Monday
Hours:
Tuesday - Saturday: 9:30 - 19:00 (Entry until 18:30)
Sunday: 9:30 - 17:00 (Entry until 16:30)
  
Organized by:
TAKAMATSU ART MUSEUM
Co-sponsored by:
THE SHIKOKU SHIMBUN
Special Cooperation by:
ANNO ART MUSEUM
Planning cooperation by:
ARTKITCHEN
Admission:
【General / Seniors 65+】1,000yen(800yen)
【College students】500yen (400yen)
【High school age or younger】Admission free
※Advance Purchase and Groups of 20 or More Get Discounts (pricing in parenthesis)
※Free admission for those with a physical disability certificate, rehabilitation certificate, or mental disability certificate.
Telephone Inquiry:
Takamatsu Art Museum
TEL +81-87-823-1711