Takamatsu Contemporary Art Annual vol.08/Dissect the Society.
Takamatsu Contemporary Art Annual vol.08/Dissect the Society.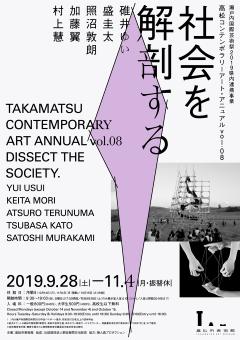 The "Takamatsu Contemporary Art Annual" is an annual group exhibition of contemporary art. This is the 9th time for it to be held since it started in 2009 as vol.00. The theme this time is "Dissect the Society". Here, we present five artists who create their art by taking a hard look at society and sometimes immersing themselves in what they see. Yui Usui (born 1980 in Tokyo), who creates warm and ephemeral works using techniques such as handicrafts, redefines daily life and the past from the perspective of a woman. Keita Mori (born 1981 in Hokkaido) depicts society's bugs (errors / defects) in "Bug Report", a large-scale drawing made of yarn. Atsuro Terunuma (born 1983 in Chiba,) portrays society through the eyes of a boy who wants to look around the world "Mieteru Nozomu-kun", and a girl "Mienai Nozomi-chan" who hates being able to see too much reality. Also, Tsubasa Kato (born 1984 in Saitama) visualizes the connection between people and land through projects such as "Hikiokoshi" that are carried out with the cooperation of many people. Satoshi Murakami (born 1988 in Tokyo) who has been considering the relationship between the public and the self by walking around the country carrying a polystyrene foam house, has created a residential stay using the signboard of this exhibition as his house.
Each artist cuts into society with their own approach, and "dissects" it to reveal the structure and actual situation in society. Their works show sides of society that we may usually overlook and encourage us to reconsider our own stance.
  Last but not least, I would like to express my sincere appreciation to the exhibiting artists and all other people who have given us such great cooperation.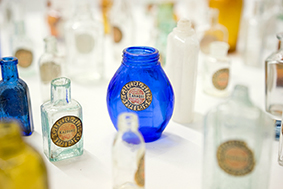 Yui Usui《empty name》2013
photo by Futoshi Miyagi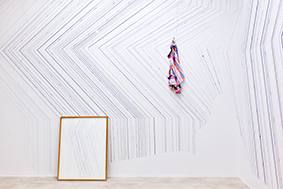 Keita Mori《Bug report(Terminal)》2017
Atsuro Terunuma《Mienai Nozomi's Vision Complex》2017
photo by ERIC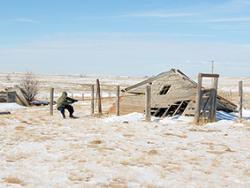 Tsubasa Kato《Abandon (South Dakota)2013
photo by Yukari Hirano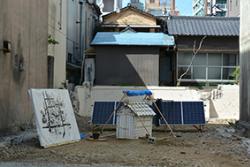 Satoshi Murakami《Living in Moving》2017
Period:
September 28(Sat.),2019-November 4 (Mon.),2019
Venue:
TAKAMATSU ART MUSEUM
Closed:
Monday
It will be open on the public holiday Monday.
Hours:
Tuesday - Saturday & Holidays: 9:30 - 19:00 (Entry until 18:30)
Sunday: 9:30 - 17:00 (Entry until 16:30)
  
Organized by:
TAKAMATSU ART MUSEUM
Subsidized by:
The Asahi Shimbun Foundation
Cooperation by:
MUJIN-TO Production
Admission:
【General / Seniors 65+】1,000yen(800yen)
【College students】500yen (400yen)
【High school age or younger】Admission free
※Advance Purchase and Groups of 20 or More Get Discounts (pricing in parenthesis)
※Free admission for those with a physical disability certificate, rehabilitation certificate, or mental disability certificate.
Telephone Inquiry:
Takamatsu Art Museum
TEL +81-87-823-1711