The Secrets of Techniques ―With O JUN, Kengo Kito, & Taro Tabuchi―
SPECIAL
In coordination with the Setouchi Triennale 2019 Takamatsu Art Museum Collection + (Plus) The Secrets of Techniques―With O JUN, Kengo Kito, & Taro Tabuchi―
April 20(Sat.)-May 26(Sun.),2019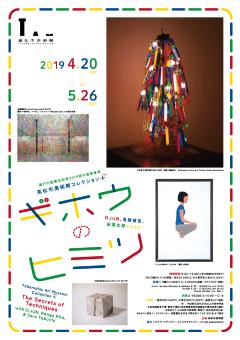 The regular event entitled Takamatsu Art Museum Collection + (Plus)The Secrets of Techniques―With O JUN, Kengo Kito, & Taro Tabuchi―combines our collection with works by guest artists to deal with specific themes. Concentrating on techniques, the present show pursues the appeal of contemporary Japanese art by introducing the diverse methods employed in the production of their works by three artists.
In the painting section, we present the works of O JUN (born in Tokyo in 1956) whose pictures of human beings and scenes employ expansive blank spaces in an odd combination of humor and calm in quietness. By means of a distinctive world view demonstrated in works from the past to the present, in the space for the film presentation called Reflection (Takamatsu Art Museum Collection), a large work (3.9 meters vertical by 2.3 meters horizontal) will be publicly created (April 27–30).
In the section on three-dimensional work, Kengo Kito (born in Aichi Prefecture in 1977) makes use of such everyday articles as hula-hoops and hand mirrors to create spaces, in which color and light flit wildly about. His work will be exhibited with one entitled Electric Dress (electric clothes; Takamatsu Art Museum Collection) by a Gutai (non-abstract) artist Atsuko Tanaka, for whom Kito has the highest respect.
     In the ceramics section, we display works by Taro Tabuchi (born in Kagawa Prefecture in 1977), who pursues the possibilities of white porcelain in works ranging from simple vessels to objets d'art involving bold breakage. Tabuchi himself selected examples of avant-garde postwar Japanese ceramics to display in combination with his own works.
Period:
April 20(Sat.)-May 26(Sun.),2019
  
Venue:
TAKAMATSU ART MUSEUM
Closed:
Monday
It will be open on the public holiday Monday.
*Closed Tuesday,May 7.
Hours:
Tuesday - Saturday & Holidays: 9:30 - 19:00 (Entry until 18:30)
Sunday: 9:30 - 17:00 (Entry until 16:30) / (9:30-17:00)
  
Organized by:
TAKAMATSU ART MUSEUM
Subsidized by:
MIZUMA ART GALLERY
KENJI TAKI GALLERY
rin art association
Admission:
【General / Seniors 65+】800yen(640yen)
【College students】500yen (400yen)
【High school age or younger】Admission free
※Advance Purchase and Groups of 20 or More Get Discounts (pricing in parenthesis)
※Free admission for those with a physical disability certificate, rehabilitation certificate, or mental disability certificate.
  
Telephone Inquiry
Takamatsu Art Museum
TEL +81-87-823-1711