Takamatsu Contemporary Art Annual vol.07/Connecting Returning Summer
SPECIAL
July 27(Fri)-September 2(Sun),2018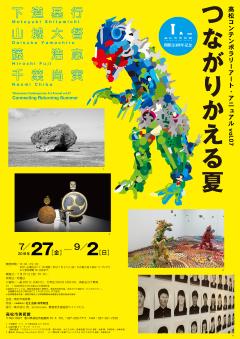 The yearly Takamatsu Contemporary Art Annual started in 2009. This year, the eighth annual takes as its theme "Connecting, Returning Summer." In connection with the 30th anniversary of the initiation of the Takamatsu Art Museum, aware of the open nature of our organization, we have invited four artists to connect, open, and look back in a broadly accessible, multi-circuit, multi-angle examination of art.
 First of them is Hiroshi Fuji (1960; resident of Akita Prefecture) who held a live installation exhibition called "Frog Campaign" in 1994 in the entrance hall of the Takamatsu Art Museum. On the present occasion, he returns to Takamatsu for connections and homecoming with his work called "Jurassic Plastic," which reutilizes discarded toys.
 Naomi Chiba (1979; resident of Kagawa Prefecture) works through The Takamatsu Art Link for the Disabled in connection with the development of Takamatsu as a creative city. She can be expected to display highly unusual works generating and varying meaning and values through her connection as an artist with support facilities for the disabled.
 August 6 is the day on which the Takamatsu Art Museum opened 30 years ago. It is also the day of the atomic bombing of Hiroshima. It is therefore an occasion for both celebration and memorial services for the repose of the souls of the victims of the bombing. The participation in our annual of Motoyuki Shitamachi (1978, resident of Aichi Prefecture), who has exhibited such distinctive works as "The Shape of War" (Senso no katachi) and the Torii series, is likely to illuminate our minds through art mediation in the memory circuit.
Finally, Daisuke Yamashiro (1983; resident of Aichi Prefecture) evokes heartrending emotions in an innocent playfulness with theatrical accoutrements accompanied by the physical voice.
 Various programs designed to make the exhibit enjoyable for people of all ages are planned—for instance Museum Day (August 4) and the Kaekko Festival (August 11).
  
Exhibiting Artists (In planned order of exhibition)
 Born in 1960, Fuji is now professor in the Art Department of the School of Art at the Akita University of Art and was director of the Towada Art Center. After completing studies at the graduate art research department of the Kyoto City University of Art, he taught at the Papua New Guinea National School of Arts and served as a consultant in architectural planning and urban programming. He has since participated in many such exhibitions as the 2010 Setouchi Triennale, in which he displayed "Creating Hachijuro Fujishima" (Teshima), a solo exhibit "I Mean to Return Tomorrow" (Ashita kaeru tsumori) at the Kirishima Chu Art School (Kirishima Open-air Museum, Kagoshima, 2015). He is also engaged in his own artistic activities called OS Works as well as an artwork called Kaekko.
  
 Born in Kagawa Prefecture in 1979, she graduated from the Osaka University of Arts in 2002. Basing herself in Kagawa, she energetically takes part in individual exhibitions, group exhibits, and workshops.
Her recent exhibitions include "Bonno-ra" (Gallery Arte, 2008) and "Odd Creatures" (Hen na ikimono, Takamatsu City Shionoe Art Museum, 2010–11), and Tamano Minato Art Festa 2011 (Gallery Minato, Tamano City). As of 2013, she has participated in the Kagawa Yamanami Art Festival (Incorporated NPO Kagawa Monohouse) and is active as an artist in the workshop for the disabled conducted by the Takamatsu Disabled Art Link undertaking.
  
 Born in Okayama in 1978, he graduated from the Department of Oil Painting, College of Art and Design of the Musashino Art University in 2001. In his exhibitions and writings he has publicized material on his investigations of structures remaining from war within Japan such as "The Shape of War" (Senso no katachi); pictures and memoirs left by his grandfather on Sunday Painter (Nichiyo gaka); and remaining structures built outside Japan by Japanese colonists and invaders (torii). On the basis of fieldwork, employing photographs, events, and interviews, he compiles and visualizes stories and ordinary things that might be buried and forgotten in daily living.
His principal exhibitions include "Straining to Hear the Scenery" (Fukei ni mimi wo sumasu koto, Kurobe City Museum of Fine Arts, 2016); "Irregularities of the Age of 14" (14 sai no deko to boko, Toyota Municipal Museum of Art); "Way to See the Sea (Umi wo nagameru hoho, Nagi Museum of Contemporary Arts, 2015). In addition, he takes part in numerous group exhibits and plans to display his work in the exhibition entitled "Cosmic Eggs" at the Japan Pavilion of the 58th Venice Biennale International Art Exhibition.
  
 Born in Osaka in 1983, from 2010 to 2014, he worked on the doctoral course at the Tokyo University of the Arts Graduate School of Film and New Media. In addition to his solo activities, he is a member of the Nadegata Instant Party (Tohru Nakazaki, Daisuke Yamashiro, and Tomoko Noda) and directs films. His principal exhibitions include "Idea Deck" (Asahi Art Square, Tokyo) in 2013 and numerous such group exhibits as "The Roppongi Crossing 2016 Exhibit: My Body, Your Voice" (Mori Art Museum).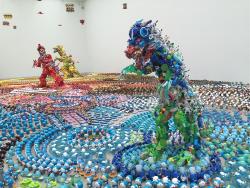 Hiroshi Fuji《Happy Paradies》2015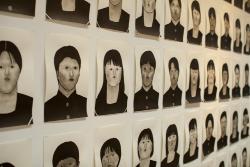 Naomi CHIBA《From Graduation Album》2013-2018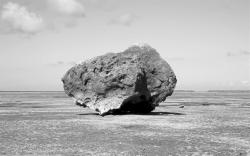 Motoyuki Shitamichi《series "Tsunami Stone"》2015-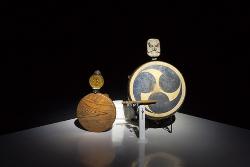 Daisuke Yamashiro《TALKING LIGHTS》2016
Installation view: "Roppongi Crossing 2016: My Body, Your Voice," Mori Art Museum, 2016
Photo: Nagare Satoshi
Period:
July 27(Fri)-September 2(Sun),2018
  
Venue:
TAKAMATSU ART MUSEUM
  
Closed:
MondayHours:Monday - Saturday & Holidays: 9:30 - 19:00 (Entry until 18:30)
Sunday:9:30 - 17:00 (Entry until 16:30) / (9:30-17:00)
  
Organized by:
TAKAMATSU ART MUSEUM
Subsidized by:
The Kao Foundation for Arts and Sciences
  
Admission:
【General / Seniors 65+】800yen(640yen)
【College students】500yen (400yen)
【High school age or younger】Admission free
※Advance Purchase and Groups of 20 or More Get Discounts (pricing in parenthesis)
※Free admission for those with a physical disability certificate, rehabilitation certificate, or mental disability certificate.
  
Telephone Inquiry
Takamatsu Art Museum
TEL +81-87-823-1711