Permanent Collection 2nd term 2020
PERMANENT
June 6(Sat)-September 22(Tue),2020
Gallery 1: New Collection of Contemporary Art
The Takamatsu Art Museum's Post-War Contemporary Japanese Art Collection is one of Japan's best in both quality and quantity. Last year, we were able to collect many pieces in connection with exhibitions we've held independently to this day.
In the spring of 2019, Taro Tabuchi (born 1977 in Kagawa Prefecture) showcased the work of famous contemporary ceramic artists, such as Kazuo Yagi, alongside his own white porcelain, at the Takamatsu Art Museum Collection + (Plus), in which the museum's collection was displayed with the work of guest artists. That summer, Aiko Miyanaga (born 1974 in Kyoto) exhibited a number of installations at her solo exhibition MIYANAGA Aiko: Rowing Style, on the theme of the scenery of Setouchi and the time accumulated by the people who have lived there. Artists Nobuaki Onishi (born 1972 in Okayama) and Atsuro Terunuma (born 1983 in Chiba) were introduced in autumn 2014 and autumn 2019 respectively, at group exhibition Takamatsu Contemporary Art Annual, which discovers and showcases artists with originality and potential.
These works, that have risen to the challenge of creating new value with the exhibitions, will bring variety and richness to the Takamatsu Art Museum's collection.
Please enjoy these 11 pieces from four artists, whose future activities are to be anticipated.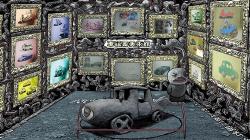 Terunuma Aturo《Mieteru Car》2016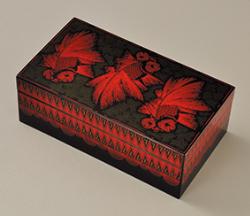 IKEUCHI, Kaho 《Small Box with Goldfish design, Kinma》
Gallery 2: New Collection of Lacquerware
The art of Kagawa lacquer (Sanuki lacquer art) was developed and established as a uniquely Japanese technique by Zokoku Tamakaji (1806-69) at the end of the Edo period, focusing on three techniques: zonsei and choshitsu from China, and kinma from southern China and Southeast Asia.
After Zokoku's death, Keido Ishii (1877-1944), Kanzan Takahashi (1883-1942), and Kado Kamada (1896-1957) worked as masters of Sanuki relief, in which colored lacquer is applied to a wooden carving, contributing to the rise of Sanuki lacquer art. In the Taisho period, Kodo Otomaru (1898-1997), an apprentice to Keido, dramatically expanded lacquer's range of expression with color by incorporating industrial-use paint, the newest material at the time, producing work with bold designs.
Sanuki lacquer art, established by Zokoku Tamakaji, has been independently developed by Keido Ishii, Kodo Otomaru, and even later lacquer artists such as Keizo Okabe (1912-94) and Shozo Kitaoka (1949-), pupils of Kodo, creating innovative techniques and designs as they carried on tradition.

Period:
June 6(Sat)-September 22(Tue),2020
  
Venue:
Permanent Collection Gallery
  
Closed:
Monday(the following weekday if Monday is a holiday)
  
Hours:
Monday - Saturday & Holidays: 9:30 - 17:00 (Entry until 16:30)
*Until 19:00 during special exhibitions on Friday and Saturday .
*Last entry is 30 minutes prior to closing.
  
Organized by:
TAKAMATSU ART MUSEUM
  
Admission:
【General 】200yen(160yen)
【University students】150yen (120yen)
【High school age or younger/ Seniors 65+】Admission free
※Advance Purchase and Groups of 20 or More Get Discounts (pricing in parenthesis)
※Free admission for those with a physical disability certificate, rehabilitation certificate, or mental disability certificate.
  
Telephone Inquiry
Takamatsu Art Museum
TEL +81-87-823-1711