Permanent Collection 2nd term 2021
PERMANENT
June 26(Sat.)-September 26(Tue.),2021
Gallery 1: Chuta Kimura -Memory of Lights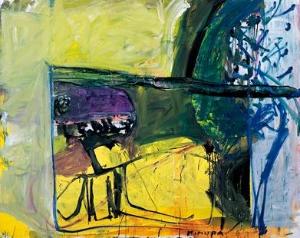 Chuta Kimura (1917-87), born in Takamatsu City, Kagawa Prefecture, was a painter who called himself an "impressionist of the soul," and who continually painted landscapes during his career. Before WWII, he entered multiple pieces in Independent Art Association exhibitions. Over time, the use of light by such masters as Georges Seurat (1859-91) and Pierre Bonnard (1867-1947) began to appeal to him, and he started creating works with a soft and bright color palette. In 1953, eight years after the end of the war and at the age of 36, he moved to France.
During the 50s, the period when Kimura moved to France, the established "representational art" that sought to depict reality as closely as possible was being challenged in the art world by "arte informale" and "abstract expressionism," involving pieces commanded more by colors and lines. Kimura himself kept his distance from this movement, working with landscapes from the south of France and Paris while adding his emotional connection and reverence for nature to his work.
His many layered matière (textures) and use of color served to depict the brilliant light of nature, as though he were trying to burn it into his very soul. If you look carefully at the free and unbounded lines depicted there, scenery elements will start to appear before you, including trees, buildings, and roads. Kimura was praised widely in both France and America for this establishment of his own unique landscape style, transcending both the abstract and the representational.
This exhibit features 28 oil paintings, reaching to the essence of the art of Chuta Kimura.
Gallery 2: Lacquer Artists' Group Takumikai -Design Innovation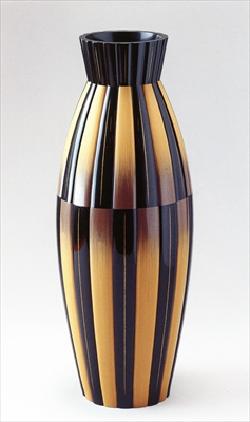 More than 120 years ago, around the time of the Paris Exposition in 1900, the propagation of "art nouveau," (meaning "new art" in French) extended its effects to Japan, promoting a move away from art focused in the technical aspects of the medium and toward art pieces placing a greater emphasis on design.
The Kagawa Prefectural Kougei School (modern day Kagawa Prefectural Takamatsu Kougei High School), which opened in 1898, is one such school was that founded in order to meet the demands of these times. Joshin Isoi (1883 - 1964) was one of those who went on to use revolutionary techniques and unique sensibilities to develop a new form of design expression as an artisan after being educated at this school.
By 1933, the lacquer artists in the prefecture had formed the "Takumi Kai," a research group seeking to get pieces placed in government exhibitions while also being created for the sake of receiving instruction from Isoi. He would have the members sketch subjects such as seasonal flowers, and then provided guidance to the members in accordance with his own techniques, sensibilities, intellect, and experience by, for instance, making some modifications himself. This method of creating designs from nature based on sketches is used as part of design education called "conventionalization," and is an indicator of how the demand for design research as prompted by the emergence of art nouveau has been passed down through the generations. The Takumi Kai undertook a revolution of design in the Showa era (the middle of the 20th century), and this exhibit introduces 34 pieces from 11 lacquer artists who either were members of the group themselves or associated with them.

Period:
June 26(Sat.)-September 26(Tue.),2021
  
Venue:
Permanent Collection Gallery
  
Closed:
Monday(the following weekday if Monday is a holiday)
  
Hours:
Monday - Saturday & Holidays: 9:30 - 17:00 (Entry until 16:30)
*Until 19:00 during special exhibitions on Friday and Saturday .
*Last entry is 30 minutes prior to closing.
  
Organized by:
TAKAMATSU ART MUSEUM
  
Admission:
【General 】200yen(160yen)
【University students】150yen (120yen)
【High school age or younger/ Seniors 65+】Admission free
※Advance Purchase and Groups of 20 or More Get Discounts (pricing in parenthesis)
※Free admission for those with a physical disability certificate, rehabilitation certificate, or mental disability certificate.
  
Telephone Inquiry
TAKAMATSU ART MUSEUM
TEL +81-87-823-1711