Permanent Collection 4th term 2019
PERMANENT
January 5(Sun.)-March 29(Sun.),2020
Gallery 1: "Time" in contemporary art
We use clocks and calendars every day, living with a constant awareness of time. You could say time is the root of all things. However, time itself is intangible, and can never be captured by the human senses. In art, a visual medium, attempts have long been made to express this invisible world in a way that can be seen.
This exhibition introduces contemporary arts (12 pieces from 8 artists) under the theme of invisible "time."
 Ryoji Koie's Return to Earth presents humans' "return to earth" with chamotte (also known as grog, a raw material for making ceramics), and shows that everything is constantly in a state of flux. Motoyuki Shitamichi's Tsunami Stone (from the new 2018 collection) is a group of monochrome images of boulders once washed ashore from the sea floor by tsunamis, as observed from a fixed point. These images allow us to imagine an ageless time in Earth's history. Yoshitaka Nanjyo's Shinano River and Akira Yamaguchi's Public Demonstration of Painting by Prof. NAKANISHI Natsuyuki express the transition of time using Japanese painting techniques such as negative space and iji dozu ("different times, same illustration" ; "continuous style" in Western Art).
Please enjoy the various expressions that hint at the passage of time.
Gallery 1 March 14,2020-March 29,2020: JAPAN TRADITIONAL Urushi Works EXHIBITION 2019.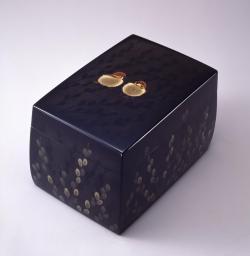 Hitoshi Ota 《Tea box,'Early Spring', Kinma,Rantai 》2004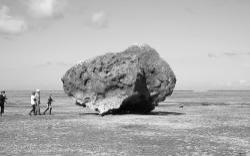 Motoyuki Shitamichi 《Tsunami Stone》 2015-
Gallery 2: Kinma - In Memory of OTA Hitoshi
Lacquer artist Hitoshi Ota was born in Okayama in 1931. From 1953, he studied under Joshin Isoi (who would later become a Living National Treasure), and continued down the path of lacquer art.
Of Ota's greatest achievements, likely the first to be mentioned is his modern-day revival of rantai kinma, which had disappeared at the end of the Meiji period. Rantai kinma is a traditional technique in which lacquer is applied to a base of woven bamboo. Using a chisel, a pattern is carved into the surface of the lacquer, and the carved grooves are then filled with colored lacquer and polished. He independently researched the technique, which had been lost due to the immense time and effort it required, and established techniques such as niju-ami rantai and nunome-bori kinma. In 1994, he was recognized as a holder of kinma as an Important Intangible Cultural Property.
Ota, who had inherited tradition and pioneered a new field, displayed his work at exhibitions in New York and London, putting his efforts into spreading Sanuki lacquer art abroad. He also worked as a professor at Kagawa University and as head lecturer at the Kagawa Urushi Lacquerware Institute, and endeavored to educate the next generation.
In honor of Ota, who passed away in November of last year, this exhibition will display all 19 pieces collected by the museum, and take a look back on his work as an artist.
At the same time, we will introduce 12 pieces by lacquer artists who had a connection with Ota, as well as lacquer artists who are active members of the Japan Kogei Association, which is dedicated to the spread and development of traditional crafts, and to which he also belonged.

Period:
January 5(Sun.)-March 29(Sun.),2020
  
Venue:
Permanent Collection Gallery
  
Closed:
Monday(the following weekday if Monday is a holiday)
  
Hours:
Tuseday - Saturday & Holidays: 9:30 - 17:00 (Entry until 16:30)
*Until 19:00 during special exhibitions from Tuesday through Saturday and national holidays *Last entry is 30 minutes prior to closing.
  
Organized by:
TAKAMATSU ART MUSEUM
  
Admission:
【General 】200yen(160yen)
【University students】150yen (120yen)
【High school age or younger/ Seniors 65+】Admission free
※Advance Purchase and Groups of 20 or More Get Discounts (pricing in parenthesis)
※Free admission for those with a physical disability certificate, rehabilitation certificate, or mental disability certificate.
  
Telephone Inquiry
Takamatsu Art Museum
TEL +81-87-823-1711