Brushstrokes and Physicality - Works Centered around Natsuyuki Nakanishi "Soaring" as Depicted in Sanuki Lacquerware
PERMANENT
January 5(Thu)-March 26(Sun),2017
【Gallery1】January 5(Thu)-March 12(Sun),2017
Brushstrokes and Physicality — Works Centered around Natsuyuki Nakanishi
  
In this exhibition, we introduce 28 paintings and video works (by 9 artists), whose brushwork gives the viewer a direct connection to their physical reality, selected from the contemporary art of postwar Japan and focusing on Natsuyuki Nakanishi, who died in 2016.
Natsuyuki Nakanishi was born in Tokyo in 1935 and majored in oil painting at Tokyo National University of Fine Arts, graduating in 1985. The next year he made his debut with a series of paintings entitled Rhyme. In the 1960s, he used discarded items to create some objets that were used in unpredictable performances that he, Jiro Takamatsu and Genpei Akasegawa held throughout the town. They called their group High Red Center. After the mid-1960s, he turned to painting again and in 1968 produced the series Hopscotch at the Top of a Mountain No.1, which contains various enigmatic images derived from the relationship between the artist's own body and the place where the picture was drawn. The images jostle one another and a mysterious atmosphere drifts over them. After that, Nakanishi worked on pieces with the motif of a huge circle that he could sense behind him when he was facing a canvas, works using an arcuate shape forming part of that circle, and other works centered around the color purple. He continued to be a leader in the avant-garde art of postwar Japan.
Nakanishi's painting has undergone various transitions, but it can be said that the essence of his paintings still lies in a process in which the thoughts of the painter appear as the movement of the body reflected in the feeling of the brush strokes on the canvas of the picture. Through this exhibition of all the Nakanishi works held by our museum, we draw near to the relationship between the brush and the body as seen in his paintings. We also introduce paintings by Waichi Tsutaka, Lee U-Fan, Yoshihisa Yoda, Kenjiro Okazaki and video images by Takashi Ishida.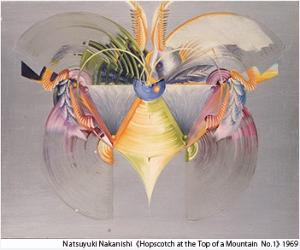 Natsuyuki Nakanishi 《Hopscotch at the
Top of a Mountain No.1》1969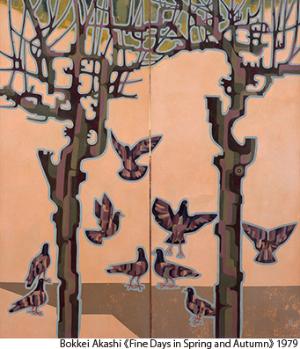 Bokkei Akashi《Fine Days in Spring
and Autumn》1979
【Gallery2】January 5(Thu)-March 26(Sun),2017
"Soaring" as Depicted in Sanuki Lacquerware
  
Since ancient times, birds and butterflies and other patterns have been favored in the arts and crafts of Japan and China as themes for patterns of the beauties of nature. In the Sanuki lacquerware technique, whose foundation was laid by Zokoku Tamakaji during the latter part of the Edo period, there are many excellent works with images of flying birds, butterflies, and the like.
Zokoku Tamakaji established the three techniques of Kinma, Cho-shitsu, and Zonsei, imitating the lacquerware that came from China and southern areas, which he saw in Kyoto, and was responsible for these techniques taking root in the land of Sanuki. Seal box is a work in which we can enjoy Zokoku's skill in kinma and wood carvings; it is decorated with a design of the phoenix and bats, symbols of long life and happiness. At the end of the Meiji period, excellent works were produced in connection with Hyakkaen, a store selling Sanuki carvings. Incense Tray with Chinese Hollyhock and Korean Magpie Design, Tsuishu by Keido Ishii, who was a master of carving, shows the propitious omen of a red-billed blue magpie, elaborately carved on a surface of vermilion lacquer, along with hollyhocks. Between the Taisho and Showa periods, Joshin Isoi achieved the modernization of Sanuki lacquerware through the creation of new techniques and other means; in 1956 he was designated as a Human National Treasure (holder of an important intangible cultural asset) in the field of kinma. Joshin's Paperboard box,Choshitsu,Kinma has an over-all crested myna and plum blossom design in Art Deco style. The decoration uses both the choshitsu (carved lacquerware) and tenbori-kinma (dot engraving) techniques. In 1985, Masami Isoi, the third son of Joshin, expanded the scope of expression with a variety of kinma techniques and was designated as a Human National Treasure. Box with Camelia Design,Kinma shows a pair of flying Chinese windmill butterflies against a black background with fine gold mottling in the kinma technique, transporting us to a world of delicate beauty.
Please enjoy 41 Sanuki lacquer works of art featuring soaring images by 20 artists, from Zokoku Tamakaji, the founder of the art of Sanuki lacquer, to the artists designated as modern Human National Treasures.
  

Period:
【Gallery1】January 5(Thu)-March 12(Sun),2017
*March 15(Wen),2017-March 26(Sun),2017: JAPAN TRADITIONAL Urushi Works EXHIBITION 2017
【Gallery2】January 5(Thu)-March 26(Sun),2017
  
Venue:
TAKAMATSU ART MUSEUM
   
Closed:
Mondays(the following weekday if Monday is a holiday)
  
Hours:
Monday - Saturday & Holidays: 9:30 - 17:00 (Entry until 16:30)
*Until 19:00 during special exhibitions from Tuesday through Saturday and national holidays *Last entry is 30 minutes prior to closing.
  
Organized by:
TAKAMATSU ART MUSEUM
  
Admission:
【General 】200yen(160yen)
【University students】150yen (120yen)
【High school age or younger/ Seniors 65+】Admission free
※Advance Purchase and Groups of 20 or More Get Discounts (pricing in parenthesis)
※Free admission for those with a physical disability certificate, rehabilitation certificate, or mental disability certificate.
  
Telephone Inquiry
Takamatsu Art Museum
TEL +81-87-823-1711