The Painter of Light ― Chuta Kimura The World of Choshitsu ― Kodo Otomaru
PERMANENT
September 15(Thur)-October 23(Sun),2016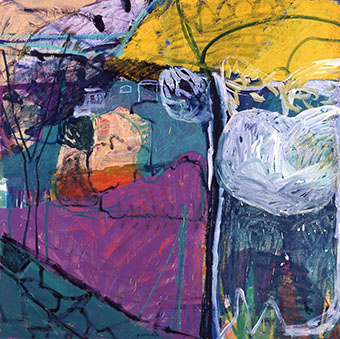 The Painter of Light ― Chuta Kimura
  
The artist that we are going to introduce here, Chuta Kimura, was born in Takamatsu City and after the Second World War in 1953 he went to live in France and until he passed away in 1987 he hardly ever returned to visit Japan. Choosing France as his stage, he referred to himself as "impressionist of the soul" and dedicated himself to painting. He was particularly successful in the International Modern Art Fair held in Paris in 1980 and his name also became famous in Japan. However, just when we were preparing a retrospective exhibition for him at the Takamatsu Art Museum, we received the notice of his obituary.
In 1989, after the first great retrospective exhibition in Japan was held at our museum, plans were put in place for the retrospective exhibition to be held at a number of national museums. The artist Kimura who had traveled to the West from the Far East was released from what had troubled him between the East and the West. His paintings form an abyss in response to the light that he had reached and still communicate a lot to us. With the display of about 20 of his oil paintings and 10 of his drawings at the exhibition this time, we will introduce the transition in his art from the pre-war period until after he went to France, and the view of the world that he attained.
The World of Choshitsu ― Kodo Otomaru
The artist that we are introducing this time, Kodo Otomaru, was certified as the holder of an important intangible cultural property in 1955 for "Choshitsu", one of the lacquer techniques that is representative of Kagawa. This technique creates a thick layer by repeatedly recoating the surface of a vessel with lacquer and carving a pattern on it. The foundation of this craft is said to have been the techniques developed by the father of Sanuki Lacquer art who was active in Takamatsu at the end of the Edo period, Zokoku Tamakaji, and the work of the prominent craftsman, Keido Ishii and others from the Sanuki lacquerware and engraving shop "Hyakkaen" at the end of the Meiji period.
  
Otomaru was the best of Keido's pupils and as well as inheriting his excellent and precise techniques, his greatest characteristic was in his abundant use of color. The original colors used in lacquerware were limited to the five shades of vermilion, black, yellow, green, and brown, but Otomaru was quick to incorporate the new material of lake pigment and was daring in his usage of difficult neutral colors and the vivid colors of lacquer. He created works one after another with the greatest designs.
  
Please enjoy these 20 masterpieces that represent the world of lacquerware of Otomaru, an art form that continues to appeal to the viewer due to the sense it shows in novel designs through the significant expansion of the range of colors represented in the lacquerware.
  

Period:
September 15(Thur)-October 23(Sun),2016
  
Venue:
TAKAMATSU ART MUSEUM
  
Closed:
Monday
  
Hours:
Monday - Saturday & Holidays: 9:30 - 17:00 (Entry until 16:30)
*Until 19:00 during special exhibitions from Tuesday through Saturday and national holidays *Last entry is 30 minutes prior to closing.
  
Organized by:
TAKAMATSU ART MUSEUM
  
Admission:
【General 】200yen(160yen)
【University students】150yen (120yen)
【High school age or younger/ Seniors 65+】Admission free
※Advance Purchase and Groups of 20 or More Get Discounts (pricing in parenthesis)
※Free admission for those with a physical disability certificate, rehabilitation certificate, or mental disability certificate.
  
Telephone Inquiry
Takamatsu Art Museum
TEL +81-87-823-1711