On the Genealogy of Sanuki Lacquerware 
  
The art of Kagawa Lacquerware (Shitsugei) was established toward the end of the Edo Period by Master Craftsman, Zokoku Tamakaji (1806-1869). Around that time,arts and crafts were advanced to a higher level in Japan. The sparkling Makie, created by sprinkling gold and/or si1ver powder over painted patterns in lacquer, was the main lacquer decoration technique. Upon careful examination of lacquerware from China and the Rantai Shikki, where the lacquer is applied over pots and jugs made of bamboo skins, from Southeast Asia, Master Zokoku locally developed three distinctive techniques of lacquerware; Kinma, Choshitsu, and Zonsei.
After Zokoku's death, his brother, Kokusai Fujikawa tried to industrialize lacquerware by producing items for daily use using Kinma and Zonsei techniques only to be unsuccessful. By the late Meiji Period, Zonsei, once synonymous with Sanuki Lacquerware, vanished.(Sanuki is the old name for this region, roughly today's Kagawa Prefecture.) Instead, Sanuki Relief, where a carved surface is coated with colored lacquer, became mainstream. As a result, masters in engraving techniques of lacquerware, such as Keido Ishii and Kamada Kado, emerged from Hyakkaen, a store that handled Sanuki Relief, and its surrounding neighborhood.
During the early Taisho Period(1912-1926), Joshin Isoi revitalized the once declining art of Sanuki Lacquerware by successfully inventing a new method of dot engraving, Tenbori-Kinma, which creates depth and three-dimensional effects. Also, Kodo Otomaru, Keido's apprentice, crafted superior Choshitsu by applying multicolored lacquer.
The Safeguarding the Important Intangible Cultural Heritage of Japan Act was established in 1955, and Kodo Otomaru was recognized for his Choshitsu technique. A year later, Joshin Isoi was certified for using Kinma techniques followed by Masami Isoi in 1985, Hitoshi Ota in1994, and Yoshito Yamashita in 2013. In addition, Bokkei Akashi and Tadao Onishi created painterly works for the Japan Fine Arts Exhibition, Nitten, which opened up a whole new world of interior décor.
  
Three Techniques of Sanuki Lacquerware
Decorative patterns are curved in fine lines on a lacquered background, and the incised lines are filled with colored lacquer. Then, the surface is polished to reveal the design. The Kinma technique was introduced from Thailand and Myanmar from Southern China, today's Szechuan/Yunnan provinces, and reached Japan toward the end of the Muromachi Period(1338-1573).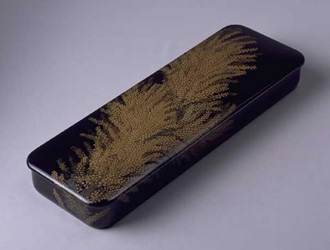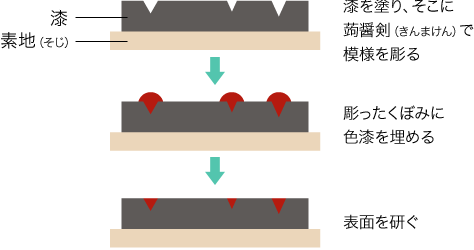 Joshin Isoi
Writing-brush Box,'Silver-Leaf Acacia',
Kinma 1957
By coating colored lacquer numerous times, as many as tens or hundreds times, a layer is formed. Incidentally, it takes 100 coatings to form a 3 mm thick layer. Decorative designs are carved on this layer of lacquer. Distinctive beauty is revealed by a modeling created by the varying depth of the carving. This technique was also introduced from China during the Muromachi Period.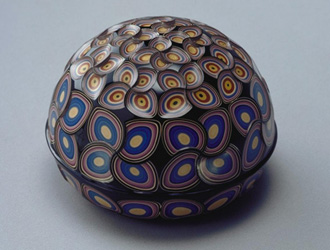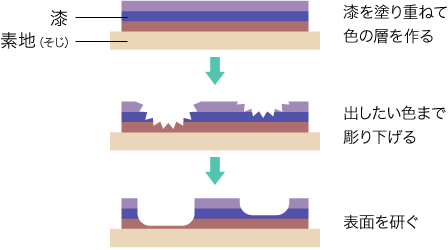 Kodo Otomaru
Incense Case with Hydrangea Design, Choshitsu
There are two versions of the Zonsei technique. One version is to paint patterns with colored lacquer, incise outlines and details of the design, and emphasize the incised lines by filling them with gold powder and/or gold leaf. The other version is to fill the incised lines with colored lacquer, polish the surface flat, and then engrave outlines and details.
Decorative designs are painted on the surface in colored lacquer and then polished. Then outlines and details of the design, such as the veins of leaves, are incised and left untouched. The linear engraving around the edges of the colored areas enhances the design in a unique manner. This technique was introduced from China during the Muromachi Period.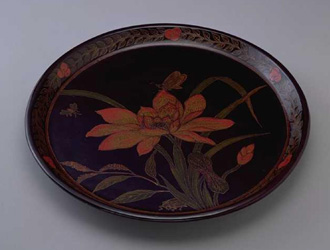 Zokoku Tamakaji
Tray with Lotus Design, Zonsei