Permanent Collection 2nd term 2019
PERMANENT
June 29(Sat.)-September 23(Mon.),2019
The world is full of color. In our everyday lives we encounter numerous colors, and sometimes even imagine temperature or taste from them. In the art world as well color is important, and each artist uses it differently. In this exhibition we focus on 'color' and introduce work in monotone, in limited palettes, and with many colors.
The all-black sculptural work of Michio Fukuoka, such as Wave Rings and Riverside, expresses the smooth surface of water and scenes from his memory. Phyllostachys heterocycla f.pubescens and Sanguinea by Masaya Hashimoto are sculpted from antlers and bones of deer, and their whiteness brings to mind evanescence. Beaupin by Yoshishige Saito communicates different impressions of color in its combination of monotone pieces. Masaaki Yamada and Kenzo Okada construct pieces with multiple colors contained within a single frame. And Kouseki Ono's Hundred Layers of Colors reveals different colors depending on where the audience stands.
Just as there are various ways of using and presenting color, there are different ways of feeling it. We hope that you enjoy the world of 'color' presented in the exhibition rooms.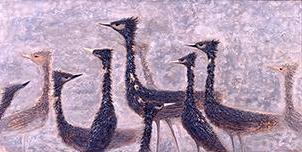 Jitsuya Manago 《或る日》1961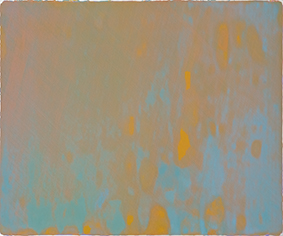 Koseki Ono《Hundred Layers of Colors》2016
Contemporary Art Crafts ―Centerring on Manago Jitsuya
"Contemporary Craft" is a movement that was promoted by Kakutaro Yamazaki in the early Meiji Era, in opposition to "Traditional Craft", aiming to make new lacquer ware that fit the times. This thought, born in the center of the country, eventually spread to regional areas, and in Kagawa the work of young artists drove the movement forward. Jitsuya Manago is one of these artists.
Born in Okawa in 1919, Manago studied under Joshin Isoi at Seishouen atelier after graduating from the craft-specialized Kagawa Prefectural Kougei High School in 1937. In 1949, Manago founded the Urumi-kai group with Bokkei Akashi, pursuing new crafts in the post-war period, while working hard with fellow artists. In 1962, at the first Japan Contemporary Arts and Crafts Exhibition, his piece Lacquer Panel Kokoromi received the contemporary crafts award. At the 10th Shin-Nitten, in 1967, he showed Screen – Mutsugoto, and in the reformed 4th Nitten in 1972 he showed Sou. His pictorial representations and objects with artistic forms are representative expressions of Contemporary Craft, which were handed down to later generations.
This exhibition centers on the work of Manago, who was born 100 years ago, and features 14 pieces by 8 artists who worked on Contemporary Crafts. Enjoy work that aimed to open up new expression.

Period:
June 29(Sat.)-September 23(Mon.),2019
  
Venue:
Permanent Collection Gallery
  
Closed:
Monday(the following weekday if Monday is a holiday)
  
Hours:
Tuseday - Saturday & Holidays: 9:30 - 17:00 (Entry until 16:30)
*Until 19:00 during special exhibitions from Tuesday through Saturday and national holidays *Last entry is 30 minutes prior to closing.
  
Organized by:
TAKAMATSU ART MUSEUM
  
Admission:
【General 】200yen(160yen)
【University students】150yen (120yen)
【High school age or younger/ Seniors 65+】Admission free
※Advance Purchase and Groups of 20 or More Get Discounts (pricing in parenthesis)
※Free admission for those with a physical disability certificate, rehabilitation certificate, or mental disability certificate.
  
Telephone Inquiry
Takamatsu Art Museum
TEL +81-87-823-1711