The Takamatsu Art Museum has more than 1,600 works of art, which have been systematically collected according to three categories: "Post-War Contemporary Japanese Art", "Art in the 20th Century and Beyond in the World", and "Arts of Kagawa".
  
Post-War Contemporary Japanese Art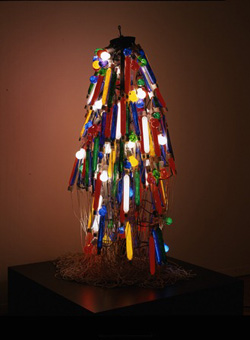 Aiming to create new value, the Museum has collected a diverse collection of contemporary art in Japan from the end of World War II to today.
Atsuko Tanaka
《Electric Dress》1956(Reconstructed in 1986)
Kanayama Akira and Tanaka Atsuko Association
  
  
You can enjoy excellent works of post-war artists, who have pioneered each era. Just to name a few… Taro Okamoto rejected established values and developed his own energetic art. Under the leadership of Jiro Yoshihara's slogan, "Don't imitate others", each member of the "Gutai" group including Kazuo Shiraga and Atsuko Tanaka, produced innovative works.
Ushio Shinohara and Tetsumi Kudo incorporated everyday objects and even waste materials into art that reached outside the boundaries of existing paintings and sculptures through the "Anti-art" (hangeijutsu) movement of Japan. Tadanori Yokoo and Tiger Tateishi depicted popular and everyday subject matters in the style of "Pop Art". As members of the "Mono-ha" (school of things), Ufan Lee and Kishio Suga presented unprocessed materials just the way they were.
Shinro Ohtake uses many different mediums, such as paintings, photographs, three-dimensional, and collages. Disguised as characters of famous paintings and celebrities, Yasumasa Morimura records his self-portraits by photos and videos. Takashi Murakami's art boldly adopts the Japan's Otaku culture and other subcultures. Yoshitomo Nara depicts young girl figures with peculiar expressions of sweetness and cruelty.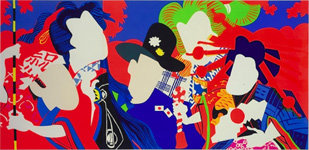 Ushio Shinohara
《Doll Festival》1969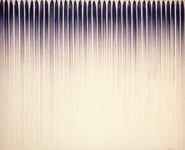 Ufan Lee
《From Line #760160》1976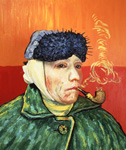 Yasumasa Morimura
《Portrait (Van Gogh)》
1985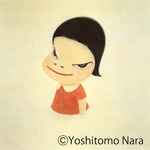 Yoshitomo Nara
《Milky Lake》2001
Art in the 20th Century and Beyond in the World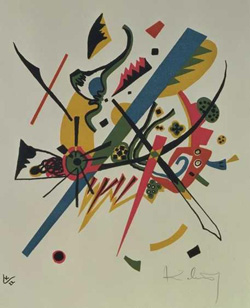 In order to follow world art trends in the 20th century and beyond, the Museum collects prints by artists who represent each era.
Wassily Kandinsky
《Kleine Welten》1922
  
  
Early in the 20th century, Picasso brought a revolution of form through Cubism, and Matisse brought a revolution of color through Fauvism. Kandinsky was the pioneer of the abstract painting. Duchamp denied established values and presented objects full of wit. Ernst, Miró, and the "Surrealism" artists found a source of expression in dreams and the unconsciousness.
Warhol, Lichtenstein, and other "Pop Art" artists drew from everyday subject matter and popular culture. You can follow the world art trends in and after the 20th century, which also have had a major impact on the Japanese art scene, with the prints of the artists who represent each era.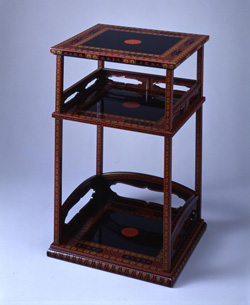 Considering the uniqueness of expressions and their historical importance, the Museum collects arts of Kagawa, particularly placing emphasis on lacquerware and metalwork.
Zokoku Tamakaji
《Sheleved Cabinet for Water Jar, Kinma
on Coloring Lacquer》1853
  
The Kagawa lacquerware was originated by Zokoku Tamakaji, who produced many of the exceptional works of lacquerware under the patronage of lord Matsudaira of the Takamatsu Domain at the end of the Edo period. Zokoku researched lacquerware from China and Myanmar and improved upon them. As a result, he perfected three distinctive techniques of the Kagawa lacquerware: "Kinma", "Choshitsu", and "Zonsei". Based on these techniques, the Sanuki (former name for Kagawa) lacquerware has been produced since then with a variety of new ideas. Five artists from Kagawa prefecture have been designated as "National Living Treasures" by the government of Japan in the category of lacquerware. In our collection, you can trace more than 150 years of the history of the Sanuki lacquerware through the extensive works.
  
Metalwork of Kagawa flourished around 1926 (Taisho 15). It was led by Senroku Kitahara who formed the group "Mukei" in order to pursue the new craft. In the following year of 1927, the new category of crafts was added to the Imperial Exhibition, and Senroku headed up "Kojin-sha", an organization of young craftsmen, with Takashi Osuga, brothers Kotaro and Masao Kamo, and other artists from the same hometown. They had a strong impact on arts and crafts. Many of their ambitious works were influenced by Art Deco and Constructivism, and they are an important part of our collection.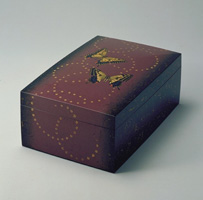 Masami Isoi
《Box with Gromwell Design,
Kinma》1990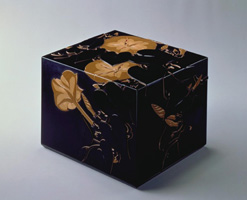 Kodo Otomaru
《Cosmetic Box with Moon-Flower Design,
Choshitsu》1942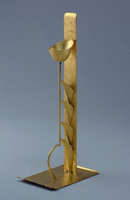 Senroku Kitahara
《Candlestick with
Floral Design》1926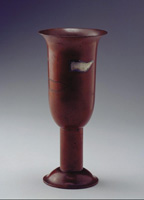 Masao Kamo
《Vase》1929